Have an ACV spa day with these 3 tricks
Step 1. Create a Tasty Spa Water
There are few things as refreshing as spa water. Elevate the ambiance with an elixir that promotes healthy skin and hair.
Ingredients
24oz water
1/2 lemon
1/2 lime
1/2 orange
1 tablespoon of Apple Cider Vinegar
Stevia to taste 
Instructions
1. Wash fruit thoroughly using Bragg Apple Cider Vinegar (ACV).
2. Cut fruit into chunks and add to a large glass. Use a spoon to slightly mash 3. and breakdown the fruit.
Add water and ice. Stir in ACV.
Step 2. Craft a DIY Facial that Beauty Experts will be Jealous Of
Our ACV and the Aztec clay mask are a match made in spa heaven. This mask will leave your pores feeling refined and your skin glowing. Learn more about the benefits and uses here.
Step 3. Soak in a Soothing Apple Cider Vinegar Bath
Convert your bathroom into the ultimate relaxation station with our famous apple cider vinegar soak. Not only does this treatment help restore your pH balance, but it will leave you with soft and radiant skin. Read more about how to reap the benefits of this simple yet life-changing method.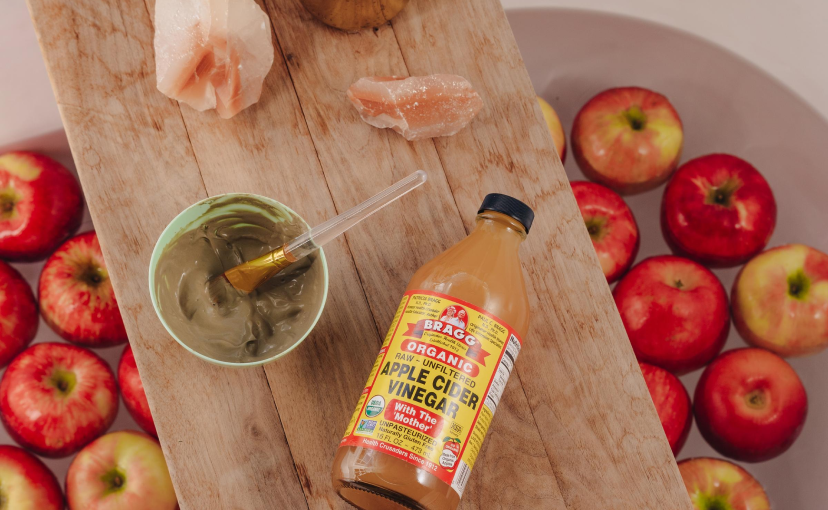 Keep reading