FREE SHIPPING ON SUPPLEMENTS AND ORDERS OVER $50!
Let's talk
Apple Cider Vinegar THE
MOTHER
OF ALL
Buy
How It's Made
100% organic apples of all shapes and sizes are mashed and exposed to enzymes and oxygen that turn the mash to a caramel color.

The apple mash is pressed into apple juice (soft cider).

1st fermentation: Yeast consumes the sugar in the apple juice to produce ethanol (hard cider).

2nd fermentation: Friendly bacteria consumes the ethanol to produce "the mother" and acetic acid.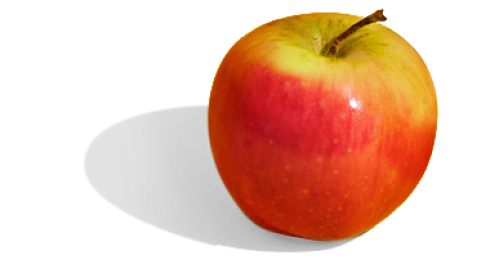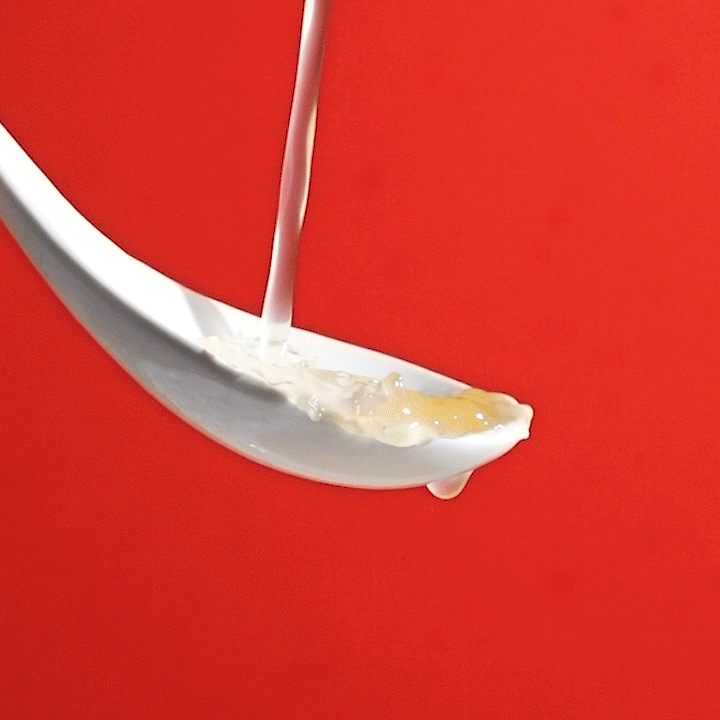 Key Actives
The Mother
Every Bragg ACV product contains "The Mother."

You'll recognize it as the cloudy substance at the bottom of the bottle.

It's a naturally formed microbial culture that contains enzymes, acetic acid producing bacteria, and prebiotics in the form of cellulose².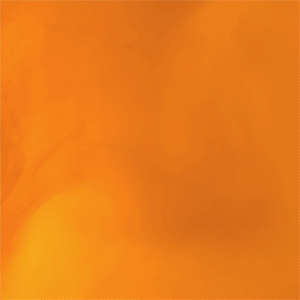 Acetic Acid
An organic acid formed by the fermentation of friendly acetobacter bacteria.

Drinking 750 mg of it daily, equivalent to one serving (1 tbsp, 15 mL) of Apple Cider Vinegar (5% acidity) has been proven to elicit many health benefits.

All Bragg products that contain ACV have been formulated to contain at least 750 mg of acetic acid per serving!
FAQs
All Bragg Apple Cider Vinegar Products use unfiltered Apple Cider Vinegar and were made with "The Mother". Our Apple Cider Vinegar and our flavored vinegar blends are both Live, Raw products.  However, when vinegar is combined with other ingredients, such as tea or juice in our Refreshers drinks, or oil and herbs in dressings, it must be pasteurized to prevent spoilage.  To understand the features of our products health benefits, please see our Product Features chart. 
All Bragg apple cider vinegar products contain The Mother.  The Mother provides both prebiotics and postbiotics, which studies have shown promote gut health. 
Apple cider vinegar is versatile in the kitchen. From salads to pickles to drinks, ACV can be easily incorporated into your day. 
Purchasing apple cider vinegar supplements can be confusing, as labels do not always communicate the product's acetic acid content. Studies indicate that a daily dose of 750 -1500 mg of acetic acid are associated with key health benefits such as maintaining healthy weight, healthy blood sugar levels and healthy cholesterol levels. Be aware of your purchase, as a vast majority of supplements deliver nowhere near the recommended amount of acetic acid.   
The ultimate
wellness
multi-tasker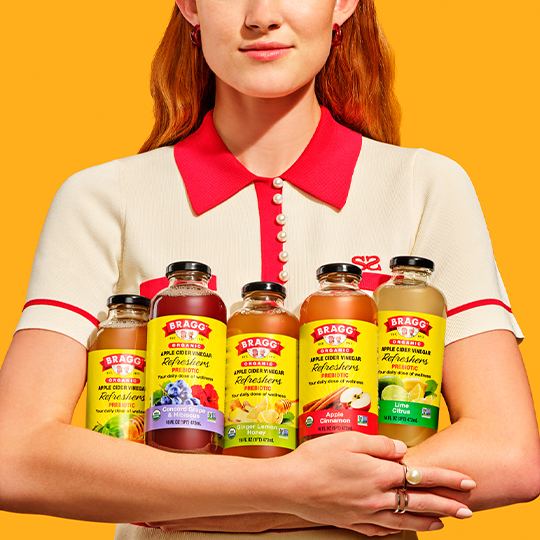 HEALTHY BLOOD SUGAR LEVELS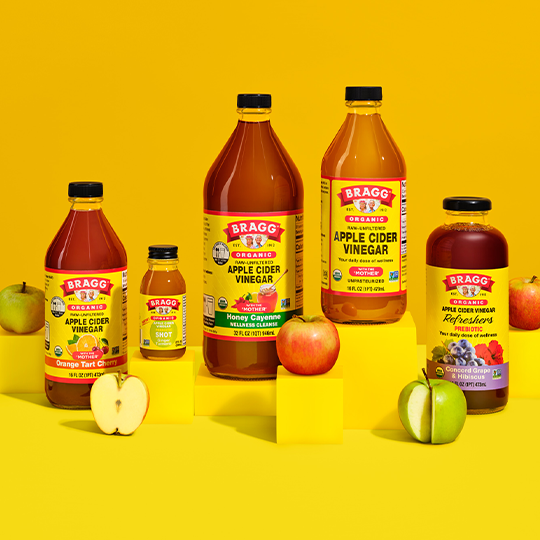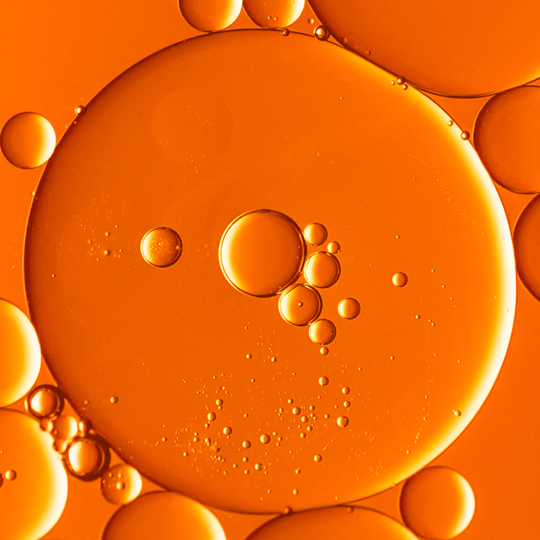 PREBIOTICS IMPROVE GUT HEALTH
Apples to Apples
All Bragg ACV products were developed to include 750 mg of acetic acid per serving.
COMPARE ALL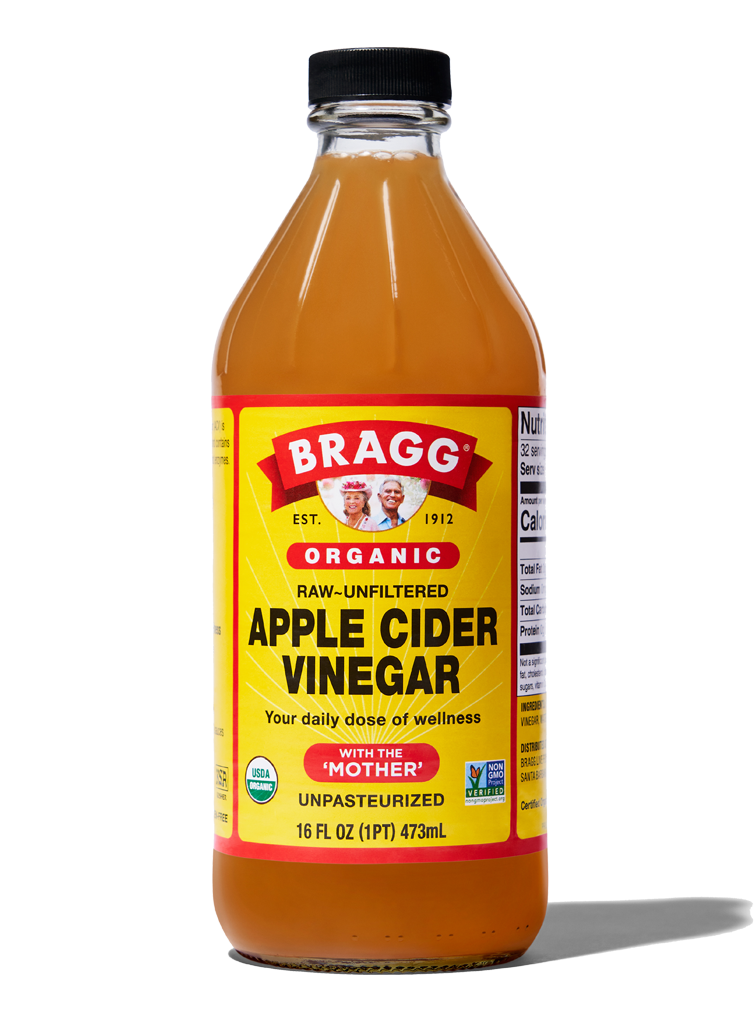 Buy
COMPARE ALL
| | Apple Cider Vinegar | ACV Blends | ACV Shots | ACV Refreshers | ACV Supplements |
| --- | --- | --- | --- | --- | --- |
| 750 mg Acetic Acid / serving | | | | | |
| Certified organic | | | | | Made with Bragg Organic ACV |
| Non-GMO | | | | | |
| Vegan | | | | | |
| Kosher | | | | | |
| Gluten-free | | | | | |
| No artificial colors, flavors, preservatives | | | | | |
| No high fructose corn syrup | | | | | |
| No cane sugar | | | | | |
| Unfiltered ACV | | | | | |
| Live / Raw ACV | | | | | |
* No cane sugar added, some flavors are subtly sweetened with honey, stevia and/or monk fruit
Real Talk...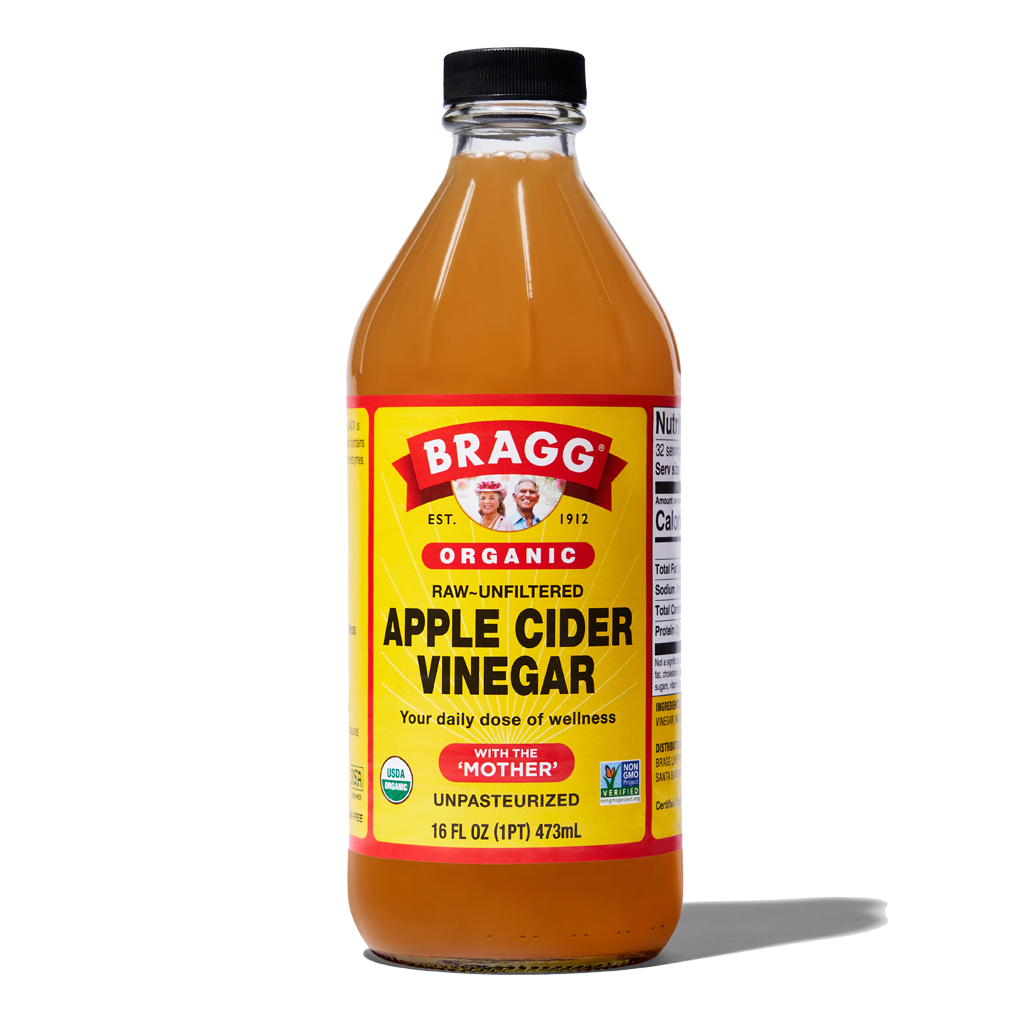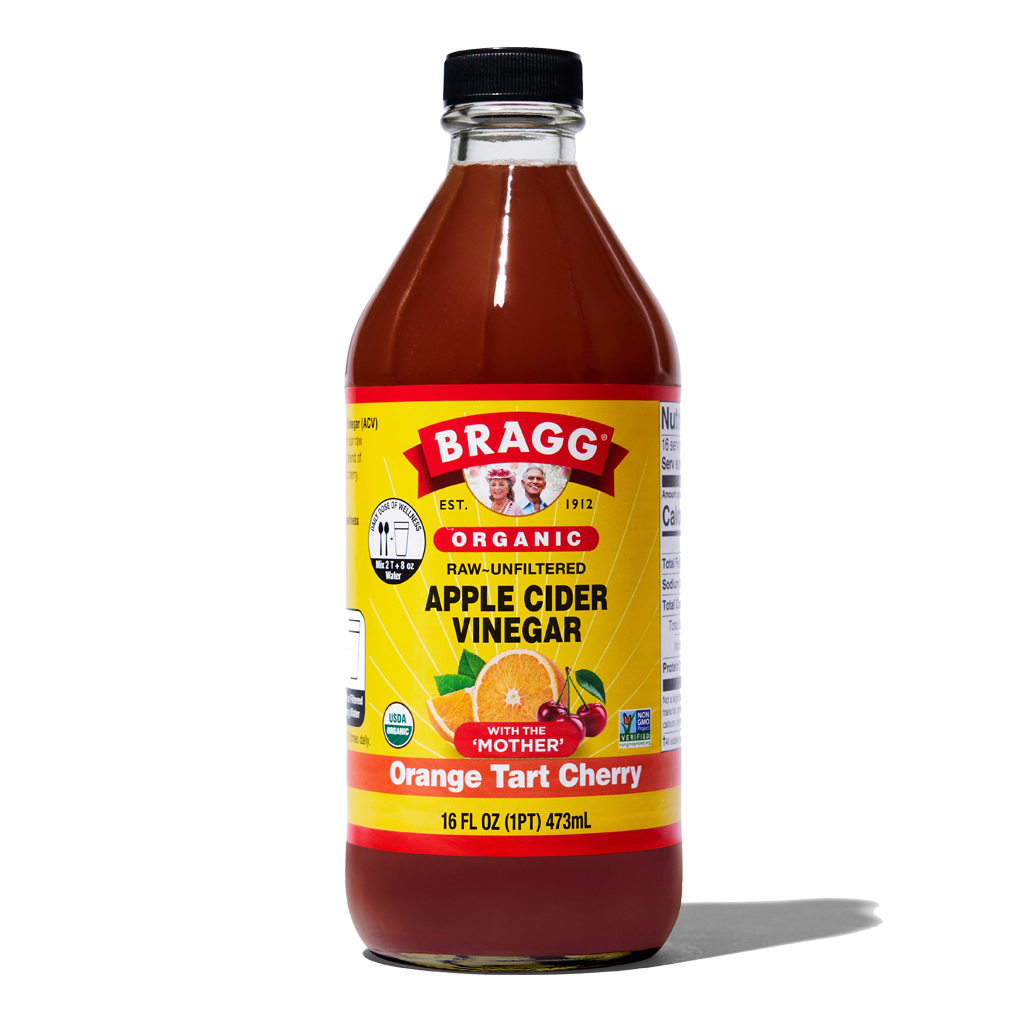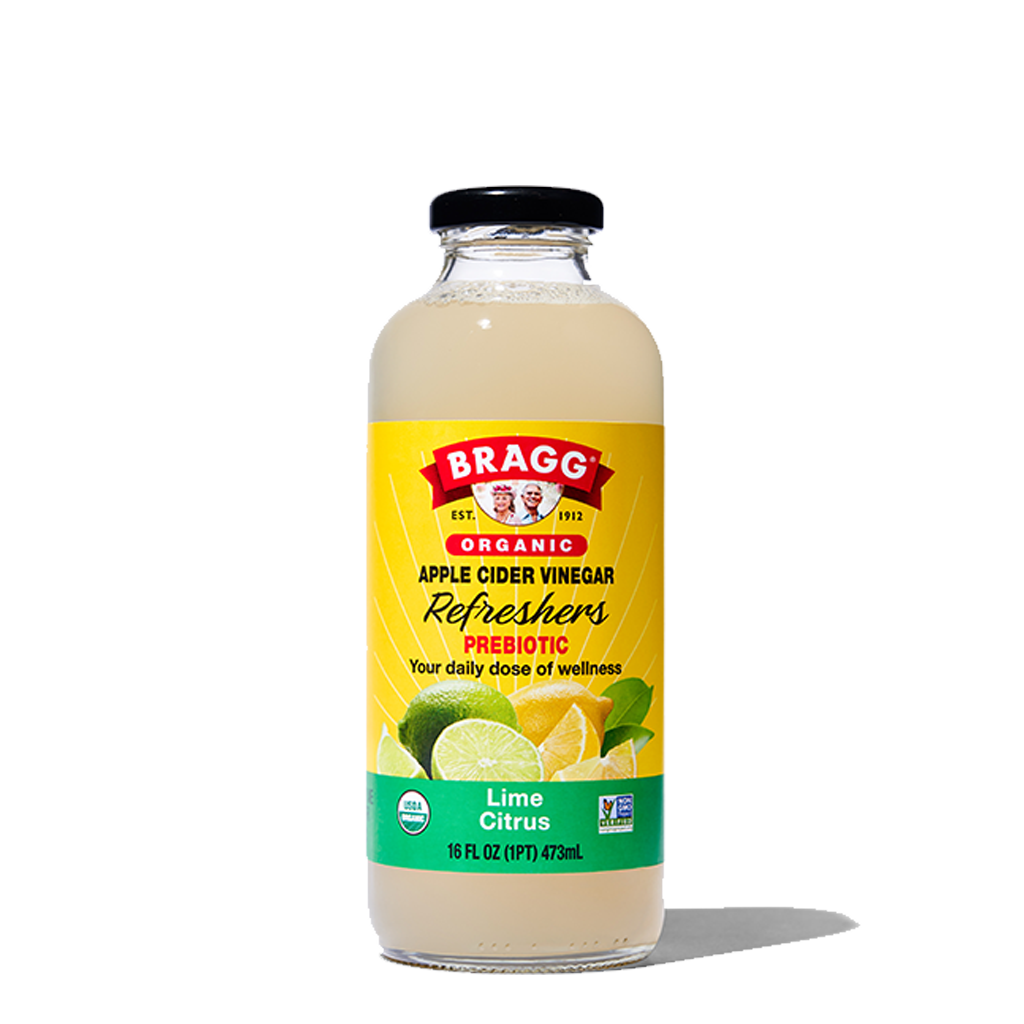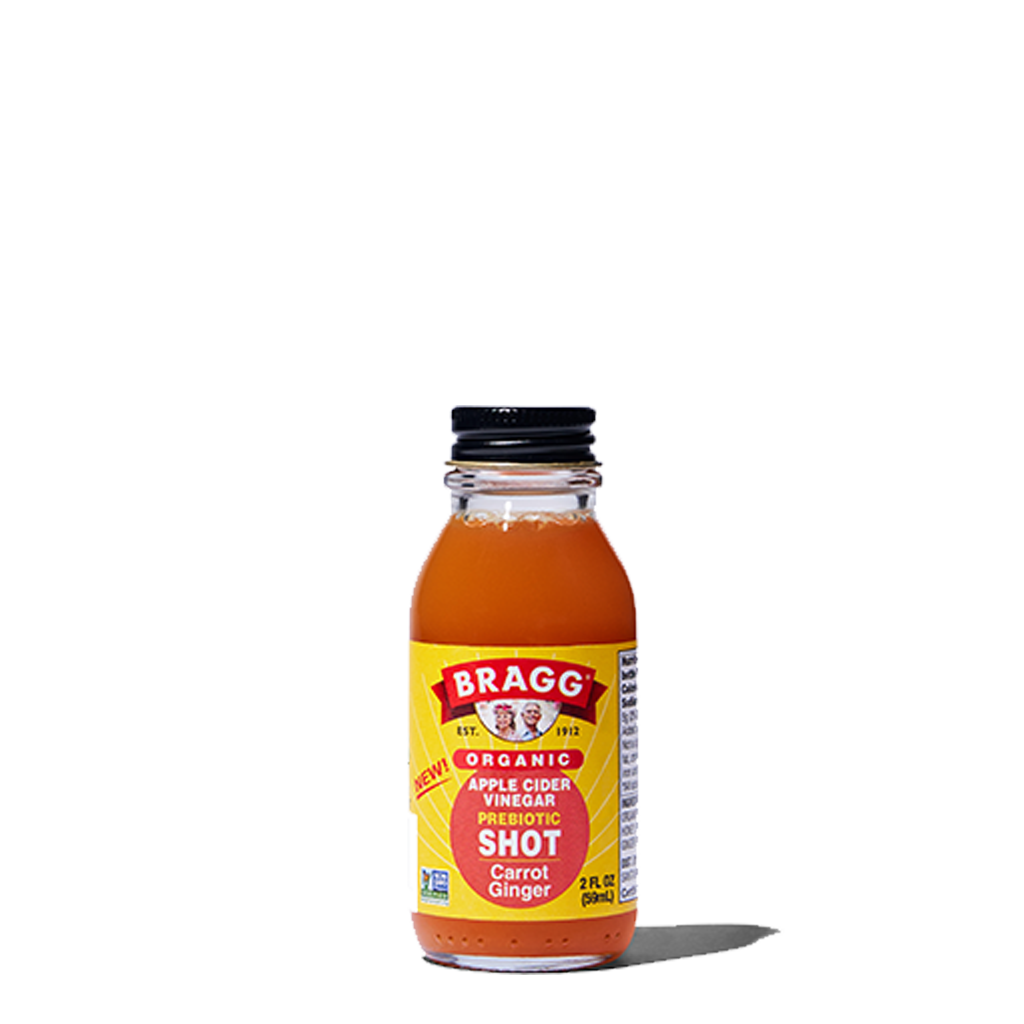 LOAD MORE
I love all of these
I love all of these products and especially love the quick delivery!!
I drink everyday
My children drink it everyday, i drink it everyday. Great product!
NO MORE ACID REFLUX
In hopes of helping someone else...I started using Braggs ACV 14 days ago. I stopped using my acid reflux medicine at the same time. To date I have NO MORE ACID REFLUX. Wow, I've been on acid reducers for 15 years. I must admit, I also reduced my carbs and sugars at the same time. Miracle!! I was at 2 TBS, 3 times a day and now once or twice does the trick. Grateful!!!
Amazing!
This product is great and everything that I wished for and more.
Apple Cider Vinegar
Great apple cider vinegar. The only brand I buy.
Amazing
Delivered on time and the taste is amazing.. I will be purchasing more when I run out.
Good
Been drinking this concoction for over 60 yrs. Great grandparents used to give me and they drank honey and vinegar since before I was born. Braggs is tasty and convenient.
Very healthy
This company production is just amazing!
So Excited!!
I've struggled with drinking apple cider vinegar in the past but I know the benefits so I was discouraged. I saw this in the store and thought I would give it a try. The taste is great with the honey and cayenne so I know I will be able to drink it daily. Thanks so much!!!
i really like it ..
i really like it ..
I love this blend.
I love this blend. I am drinking it daily!!!!
Love the products.
Love the products.
Apple Cider Vinegar
I like that I don't have to mix the ingredients together, they are mix in one bottle. it is so convenient for me to use
Will reorder
I give 4 stars to my whole purchase. 2 minis were broken but the rest were incredible. I will most definitely reorder.
mr.peter kokinda
My first time today trying the apple /cinnamon drink. It had a very good flavor!
Excellent product
Great taste
Concord Hibiscus
I like the convenience of this product. Great product to have around. Love the flavor
Apple cider vinegar
Don't want any other kind
Variety of products . . .
Glad we have a few choices of ACV now. Thank you!
Delicious
Refreshing and so easy
Afternoon pick me up
Perfection, yummy easy to drink
Great!
Vinegar shots are tasty and in a very convenient size
Loved it....
Loved it....
Little shots of love
These are great! Perfect for on the go. They taste great and I like to drink as is or add them to 8 oz. of water.
Delicious!
I take one of the ACV shots with me when I go out.Drinking the ACV shot helps me stay away from buying other foods!
Excellent product.
Easy to store. Easy to take.
Vinegar shots
A great vinegar drink that packs a powerful punch, in the right size
Essentials
1 a day to start my day
ACV shots
These are perfect when I have a busy day to take with me.
4-packs ACV
I order a coulomb of 4-packs and some refreshers and live them. I'm always on the go and can quickly grab a mini for my daily dosage. Thanks for the convenience.
| | Apple Cider Vinegar | ACV Blends | ACV Shots | ACV Refreshers | ACV Supplements |
| --- | --- | --- | --- | --- | --- |
| 750 mg Acetic Acid / serving | | | | | |
| Certified organic | | | | | Made with Bragg Organic ACV |
| Non-GMO | | | | | |
| Vegan | | | | | |
| Kosher | | | | | |
| Gluten-free | | | | | |
| No artificial colors, flavors, preservatives | | | | | |
| No high fructose corn syrup | | | | | |
| No cane sugar | | | | | |
| Unfiltered ACV | | | | | |
| Live / Raw ACV | | | | | |
* No cane sugar added, some flavors are subtly sweetened with honey, stevia and/or monk fruit